Hello and welcome to 'Young Voices Heard'  for Mentoring, Partnership and Support. We amplify youth voice , support youth participation and empower young leaders and older allies to work together.
Young Voices Heard is also a 'movement' for change, promoting greater youth engagement in public life and organisations. It's an opportunity' to network, a 'platform' to hear young voices and a 'resource' for best practice. We offer support to both organisations, and young people, so that more of them can be more effective changemakers, leaders, advisors, trustees,  entrepreneurs, writers, volunteers, campaigners, designers and elected representatives.
Social Enterprise –Young Voices Heard Ltd  was launched in 2020 to enable us to operate more sustainably, undertaking both not-for-profit projects as well as commissions that subsidise our pro bono work. Our goal is always to generate a surplus that can be reinvested in training and mentoring young leaders who would not otherwise access support and to recognise their success. If you want to invest in the future – please contact us [below]
YVH Services:
Organisations: Strategic Development and Planning, Fundraising, Project Management (First Steps, Consultation, Participation, Governance), Quality Assurance Audit (national standards), Review and Impact evaluation, Mentoring.
For Young People: Mentoring and training support for: Youth Participation/ Forum / Advisory Council / Trustee / Design / Thinktank /Consultation.
We aim to work alongside your organisations staff, volunteers and young people, empowering them, and you, to lead, own and sustain youth youth voice, participation and leadership. We also work alongside approved delivery partner organisations, peer mentors and associates. We also support entirely youthled projects – and put you in touch with your peers.
Resource Bank and Youth Voice Now are two of our platforms for promoting good practice and listening to young people.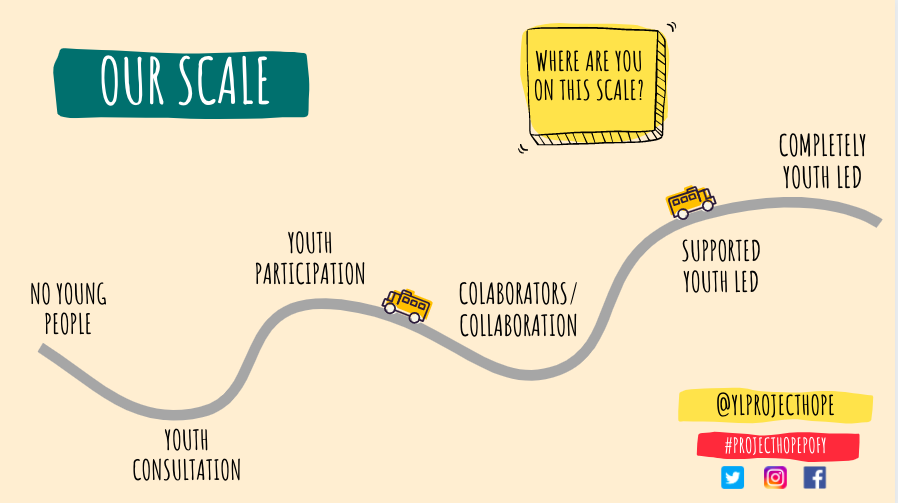 To mobilise your Youth Voice potential get in touch with us. For "timetabling" and "ticketing" inquiries, send a message to James, below.