1.   Values for co-production between young people and organisations – "Involving young people values" (June 2022)The Involving Young People Collective has spent the past 18 months working alongside Esmée Fairbairn Foundation and HUDL facilitators to co-create a set of values that can serve as an indication of best practice for involving young people in their decision-making process and take forward conversations about best practice.
2.  "Our Scale" of Involvement  & 'Dont say its Youthled when its not" by Project Hope, 2020, broadcast during the #iwill Power of Youth Festival, 11/20. One of the few examples of totally youthled values, standards and guidance to good practice (ie not co-produced or facilitated by adults)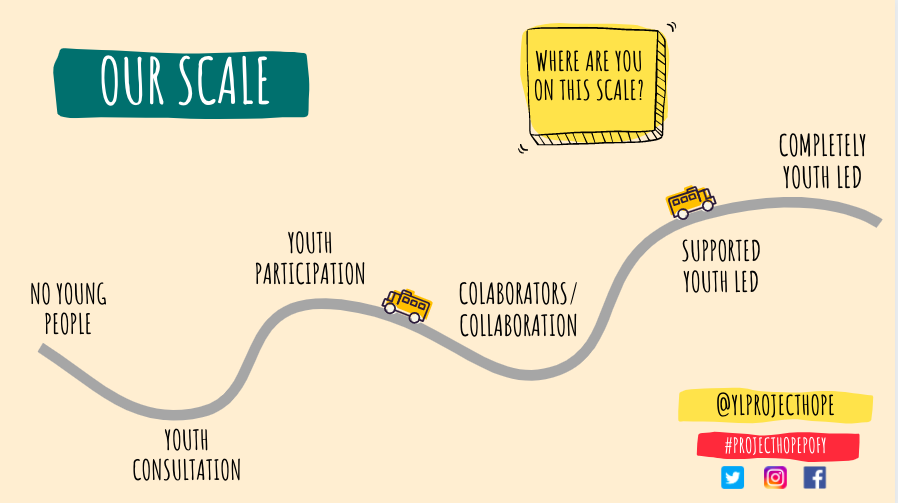 3. Supporting Youth Voice in organisations – Quality Standards, Steps and Tips to Good Practice, Cathcart J. YVH, 2020, and Video – Embracing youth voice and leadership in your organisations, Power of Youth Festival,  YVH, GroundworkUK, Young Trustee Movement, 11/20
4. Top Tips for Youth Voice in organisations, YPIL 2020 was created by the Young People in the Lead panel at The National Lottery in 2020. It includes 5 x Way2b and 5 x Things2Do
"The absence, of our voices, makes no sense; our voice is power, and we don't mean to cause offence. Our voice is our power, we are tomorrow's leaders, and this is our hour." @People_Lead
5. Leaders of Now – iwill 2020The #iwill ambassador story 2013-2020 including 'Learning from young ambassadors' on creating meaningful opportunities to listen to youth voice, and addressing barriers.
6. Zoom in to Youth Voice , Becko L, Sound Connections, 2020 | Aimed at music projects, this guide is relevant and applicable to online participation in other settings
7. Guided By Young Voices, The Roundhouse 2017 –  How to include young people on your board and in your decision making processes
Click to access Guided+by+Young+Voices.pdf
8. Hear By Right – The National Youth Agency 2018  Developing best practice in young people's participation / Self Assessment guide and standards
Click to access Hear-by-Right-20pp-brochure-P4.pdf
9. The NHS Youth Forum's Top Tips to involve young people
10. Participation Handbook Grace and Grace, (Erasmus) 2017 – "a brief overview of the concept of participation, both positive and negative, from Europe and beyond, to challenge, reinforce, and stimulate debate and refection about the practice of participation within your local reality; exploring principles, acknowledging criticisms, reflecting its role as protest, and examining participation in practice"
Click to access Participation-handbook.pdf
11. Golden Rules for Young People Children's Commissioner for Scotland 2017 – A set of principles designed to help anyone working with, and for, children and young people to support them to understand, experience and exercise their participation rights.