Its been two years since I posted my last 'General Election Call To Action' and a 'Youth-Voice Agenda' to highlight youth people's concerns and campaigns, especially those who could not vote.* I followed up with an open letter to the Prime Minister and Party Leaders calling on them to 'talk to young people not about them' – both during and after campaigns – and to consider introducing a series of reforms that would prioritise youth issues and embed meaningful #youthvoice and #participation in our democracy going forward**.
Here is my updated open call for this election – "An Advocate's Youth Manifesto" – inspired by the #youthvoice movement, from individual campaigners to national consultations like the amazing Make Your Mark Ballots of recent years organised by the UK Youth Parliament, the largest consultation of young people in the UK with results published by UK , Nation, Region and Local Authority – scroll down for summary***. How have things changed since 2017 for you? What change can we look forward to?
General Election 2019 – a 5 year Manifesto
This sets out some of the key issues young people have been campaigning on, and a set of reforms, including Youth Citizenship Bill, to ensure youth voice and participation is not a novelty but normal.
If you are a politician or decision-maker, or campaigner -what is your response? What do you agree with, disagree with , and why? If your are a Youth organisation or #Youthled campaign – please share your manifesto with us and we so we can build a stronger case for change. @YVH_YouthVoice .
'Nothing about us – without us' A Youth Advocates Manifesto "for those too young to vote but not too young to be heard"
Top Issues
The Environment and the impact of Climate Change – action to secure the future
Knife crime and hate crime – tackle the causes, support the victims
Young people's mental health – quicker, earlier, & equal to physical health services
School/Education 'curriculum for life' reform – learning for the future, not the past
Youth services and youth workers – valued, recognised, rebooted and restored
Public transport – affordable, local and equal country-wide
Child poverty – homes and happiness without hunger and fear
Not just 'hearing' but 'working with' young people on their agenda
Positive participation in public life
Young people have demonstrated their commitment to public service through volunteering through the National Citizen Service and the Step Up To Serve campaigns to increase youth volunteering and impact through social action, including campaigning. Young people may be too young to vote but not too young to be heard. As increasingly active citizens they deserve greater encouragement and representation when decisions are made about them, informing, influencing and participating in those decisions, with top-table recognition when they do so.
A new coordinating Youth Minister of cabinet rank
A new department for Youth Affairs working across Government
A shadowing Select Committee
A new award in the Honours list that's designed for young changemakers
A new Youth Citizenship Bill that introduces:
a/ a duty to consult young people on national and local policy that affects them
b/ a national youth service, leading and supporting local delivery
c/ a new citizenship curriculum to prepare young citizens to vote
d/ equal voting age rights in all elections and referenda across the UK by 2024
e/ auto-enrolment of young voters as a common right of citizenship
e/ a new independent Youth Commissioner championing young peoples issues
Talk to us – not about us. Democracy is a dialogue, and should include young people who cannot yet vote for a Government that does. I hope your party's manifesto and campaign will speak direct to young people and those that care about them.
Yours,
James Cathcart, youth advocate/campaigner – @YVH_YouthVoice
If you enjoyed this Blog please SUBSCRIBE to receive more blogs and interviews from 'Young Voices Heard'.
* Pre General Election 2017
** Post-General Election 2017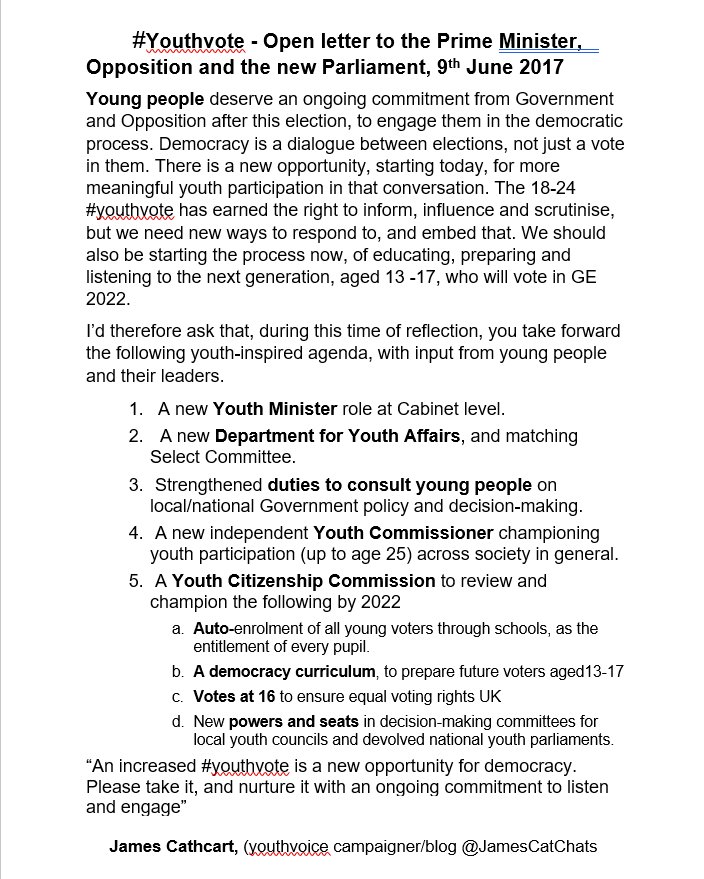 ***The results of Make Your Mark consultation 2019. We will add others as they are sent in.
If you enjoyed this Blog please SUBSCRIBE to receive more blogs and interviews from 'Young Voices Heard'.