Covid-19: Every voice matters and needs to be heard.
The Government's daily briefings may now be taking questions from the public but anyone under 18 is simply told that "you cannot ask a question in the coronavirus press conference because – you're not old enough". I was a bit surprised at the bluntness of this message to children and young people, offering not explanation or alternative. This lack of imagination in providing an opportunity for children and young people to be recognised and heard by the media, decision-makers and the public at large, is alarming. We are ALL in this together and every voice counts.
So 'Young Voices Heard' joined over 80 other organisations and 130 of their youth representatives, in signing an open letter* on Thursday 8th May to the PM calling for the Government to engage in a dialogue with children and young people in both a special Press Conference to take their questions, but also to permit under18s to ask questions in the daily briefing. YVH is also calling on journalists to talk directly to young people, to listen and learn about their hopes and fears during the pandemic, and ensuring that their voices in heard in the national debate. "The young people who backed this letter, and the millions they represent, have also supported the lockdown, cheered frontline workers, and done their bit to help volunteering and fundraising. They deserve to have their questions heard and answered publicly by the PM and in the media, because isolation is not just about feeling lonely and missing family and friends, its feeling that every voice matters but yours"
On 14th April Times journalist Francis Elliot has been only journalist so far to pose a question in the daily press conferences about the covid-19s impact on young people. In response, the Chancellor Rishi Sunak, sent a message to children and young people, paying a tribute to them for 'doing the best they can' in difficult circumstances, and saying 'thankyou' to those volunteering. From an economic perspective he reassured young people in the transition between education, training, or work, that 'we are all in this together' and 'it is our job to provide opportunities and hope for everyone in the future', assuring them that he would be asking 'what can we do to turbo-charge' plans going forward.
We look forward to hearing what the answers will be, and perhaps giving children and young people themselves, the opportunity to put that, and other questions, to the Chancellor, or the Prime Minister, in person.
There are alternatives to the pre-recorded public questions in the current format, such as the special press conferences for children and young people that have been hosted in Canada, Australia, Norway and Sweden. Finland followed an identical format to the UKs Q&As, when the Prime Minister, Sec of Sate for Education and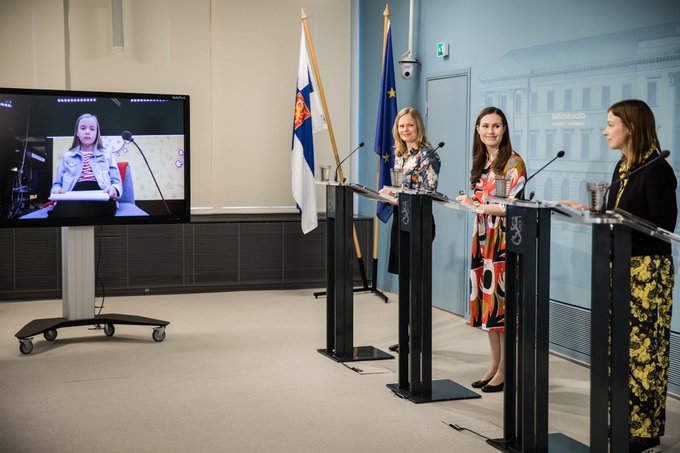 Interior Minister, (all aged under-35 by the way!) took questions from children by live-link. I'm also aware Scotland and Wales have hosted Zoom questions for children and young people, the Welsh example, notably from older teenagers.
Children and young people are not too young to support lockdown and adjust to home schooling. They are not too young to miss their extended family and friends, feel lonely or worry about the futures. They are not too young to struggle with mental health challenges. They are also not too young to applaud the NHS, volunteer and fundraise. Afew are recognised, like Kia Tobin (17) who moved into her local care home to help look after residents, featured on Good Morning Britain for giving a photo-pillow to war-veteran Ken Benbow, of his wife, but few are given mainstream recognition like this, and fewer the same opportunity to articulate their hopes, fears and questions publicly so that decision-makers, politicians and advisors 'talk with us, not about us', so that the media reports it.
Many charities and third sector organisations have provided a platform within communities. Youth services recognise just how important it is to talk and be heard and many have been playing a crucial role in giving advice and information direct and peer to peer. Others have been advocating and campaigning on their behalf – notably the Children's Commissioners – especially recognising those in poverty or vulnerable to abuse.
However, now that we entering a new debate about the exit strategy and restart, we must acknowledge that young people should be included the conversation. They have been disproportionately impacted by lockdown with many not coping as well as other age groups. Going forward they will carry the economic and psychological consequences. Many young adults are already furloughed or laid off from work. They do have leaders, young CEOs, young trustees, campaigners and representatives who could and should be part of dialogue.
But one of the key challenges in bringing young people 'to the table' is the lack of a clear point of focus in Government who would listen, hosting the briefing and sitting around the planning table – post-covid. It would be a welcome change to at least have the Secretary of State for Education and the Children and Families Ministers in a special briefing for younger children, but many aged 16 plus have a different agenda continuing into young adulthood in their early 20s – housing, mental health, training and jobs. Wouldn't it be amazing if one of the outcomes post-covid was the overdue appointment of a Minister for Children and Young People in Cabinet?
My favourite example of media reporting so far was BBCs Mark Austin featured interviews on 1st May, via Zoom and in person, with 18-24 year olds on the 6.00 pm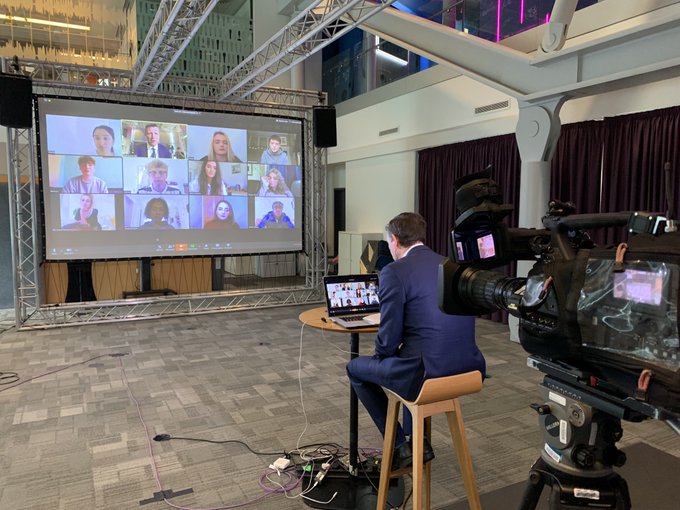 and 10.00 pm news cycles, when he reported on a survey that indicated this age group was not coping as well as others and highlighting some of those issues. Perhaps we will see some more reporters following suit, building momentum with allies from the youth sector, to call for a platform and opportunities for children to be heard, their questions and answered. (Perhaps with support from First News and BBC Young Reporters?) In the meantime, perhaps one journalist on the daily press conference will read out a question on their behalf – such the one that Alicia Jones, (Member of the Youth Parliament for Thurrock and #iwill Ambassador) wanted to put to Government on what support can be offered to young carers in lockdown. Her tweet back to Government was "Im too young to ask a question – very silly! This pandemic is going to affect our countries young people! So let them ask you questions about the future"
If you are old enough to care, you are old enough to be heard.
James Cathcart, Director Young Voices Heard @YVH_YouthVoice
*OPEN LETTER TO THE PRIME MINISTER : 7 May 20I20
It's time for the UK Government to engage with young people
Without urgent action, we risk the Coronavirus pandemic leading to a lost generation of children and young people. Now more than ever, their voices must be heard.
The crisis has the potential to exacerbate existing inequalities and create new ones. The future is uncertain – with schools closed, exams cancelled and employment prospects diminished. Many feel anxious, disaffected and isolated. Mounting evidence from organisations and young people across the UK shows that their mental health is suffering and vulnerability is rising.
In spite of these challenges, young people are continuing to make a positive difference. They are staying at home, caring for family members, supporting their peers and reaching out to help others in their communities – and they have more to offer. We must recognise and respect their contribution. From Norway, to New Zealand, to Scotland, other countries are already leading the way forward in engaging with young people directly on these issues and more. The UK Government should do the same.
Young people need to know that their Government is listening and prepared to engage. This should start with the Prime Minister. The Government has enabled over-18s in the general public to submit questions to the daily UK Coronavirus press briefing, but now it should allow young people to have their questions answered too.
That is why we are calling on the Prime Minister to hold a dedicated press conference for young people to answer their questions about Covid-19 – what it means for them now and in the months to come, and to allow under-18s to submit questions to the daily press conference.
These actions must be the first steps in a wider UK Government strategy to engage young people more concertedly through this crisis. This includes communicating directly with young people as part of the 'roadmap' for the lockdown exit strategy. Only by treating young people as active citizens can we address the significant challenges we collectively face, empower them to make a positive difference, and show that we understand our responsibility to shape the future of the UK with them.
Signed
Youth Representatives Across the UK   (scroll down for Senior Leaders)
Abby Lang, 19, #iwill Ambassador
Aishah, 21, NHS England Youth Forum Member
Alana, 16, Former MYP for Plymouth
Alex, 15, Member of the Hampshire Youth Network
Alex, 16, MYP for Manchester Central
Alex, 17, MYP for Stockport
Alice, 12, MYP for Norwich
Alicia Jones, 17, #iwill Champion, MYP for Thurrock, Young Carer Advocate#iwillchampion
Allie, 18,
Amy, 18, #iwill Ambassador
Anekha, 19, #iwill Champion
Anna McGovern, 18, #iwill Ambassador, Chair of Medway Youth Council, Member of Government's Youth Justice Board, Simple Politics Volunteer
April, 16, MYP for North and West Norfolk
Ardeel, 16, MYP for Birmingham
Arron Simpson, 20, NHS England Youth Forum Member
Arthur, 17
Athika Ahmed, 18, #iwill Ambassador, Cardiff & Vale Health Youth Board member
Atlanta, 18, #iwill Ambassador
Ben, 13, #iwill Ambassador
Bruce Taylor, 18, Co Founder, Youth for Refugees
Callum Pethick, 20, Groundwork Youth Advisory Board Member
Cameron, 14
Charlene Spence, 19, #iwill Ambassador
Charli Clement, 19, #iwill Ambassador
Charlie, 13, MYP for Central Bedfordshire
Charlie, 23, Youth Advocate & Campaigner
Charlotte, 15, YEA
Chelsea-Marie Vidler, 21, Youth Health Champion & Surf Mentor
Chloe Briggs, 18
Chloe Donovan, 25, Trustee, Food Ethics Council
Christina Arena, 18, #iwill Champion, Vice-Chair of MYC
Cian Gullen, 21, #iwill Ambassador
Cindy, 16, Volunteer
Claire, 15, #iwill Ambassador
Dafydd Duggan, 21, #iwill Ambassador
Daisy Kelly, 18, Scout Leader
Dani Yates, 18, #iwill Ambassador
Daniel, 17, Flight Sergeant
Danielle, 15, #iwill Ambassador
Danielle, 15, #iwill Ambassador
Dara, 16, #iwill Ambassador
Davina, 16, MYP
Dev, 15, MYP for Leicestershire
Devan Witter BEM, 23, #iwill Ambassador
Dina, 17
Divina Pandya, 19
Dmitrijs, 14, #iwill Champion, Member of Youth Parliament for North West Hampshire
Elen O'Rawe, 18, #iwill Ambassador
Ella Blake, 19, Co-Founder, Youth for Refugees
Ella, 17
Emily Fox, 20, #iwill Ambassador
Emily, 17, Girlguiding Advocate
Emma Beeden, 19, Member of the NHS Youth Forum
Emma-Jane Hampsheir-Gill , 24, Regional Youth Development Officer, St John Ambulance
Esther, 14, #iwill Ambassador, Action for Conservation Ambassador
Ethan Szczelkun, 18, #iwill Ambassador
Ethan, 19, #iwill Ambassador, Founder Getting The Message Across
Evie Basch, 21, #iwill Ambassador
Ewan, 13, Youth Representative, BYC
Fabio Thomas, 25, Researcher, Beatfreeks
Fatima, 16
Francis Smith, 26, Risk Committee Chair & Trustee, The British Youth Council
Gabrielle Mathews, 22, #iwill Ambassador & Youth Expert Advisor
Gareth, 15, MYP for South East Hampshire
George Fielding BEM, 25, Young Advisor & Social Care Advocate
George, 15, Explorer Scout & Young Leader
Georgia, 14, MYP for Exeter
Grace, 16, #iwill Champion, HET Ambassador
Haania, 18, NHS Youth Advisor
Haroon Ahmed, 23, #iwill Fund Leadership Board Member
Harrison Clayton, 18, #iwill Ambassador
Harry Twohig, 19, #iwill Ambassador
Haydn, 17
Immanuel Masih, 26, Prince's Trust Young Ambassador
Imogen, 17
Ishal, 14, MYP for West Hampshire
Jack Welch, 26, #iwill Advisory Council Member
Jade, 17
James Giles, 20, #iwill Ambassador
James, 16
Jamie Strudwick, 21, #iwill Ambassador
Jessica, 16, #iwill Ambassador
Jezz, 16, DMYP for North Suffolk
Joana Baptista, 18, #iwill Ambassador
Joba, 17, Girlguiding Young Leader
Jonelle Awomoyi, 21, #iwill Ambassador
Karan, 16, MYP for Bracknell Forest
Katrina Lambert , 19, #iwill Ambassador
Kay Davies, 23, #iwill Ambassador
Lamide Odanye, 21, #iwill Ambassador, Co-founder of LIVE Mentoring
Laura, 17
Lauren Wheeler, 19, #iwill Ambassador, Girlguiding Advocate
Lauren, 16, MYP for East
Lily, 11
Lizzie, 22
Lorna, 17, Girlguiding Young Leader
Lottie, 17, Pupil Power Network Member
Louise St.Pierre, 18
Lucia, 17, Girlguiding Young Leader
Lucie, 11, #iwill Ambassador
Maisie, 14, MYP for North Devon
Mansi, 17
Martim, 12, #iwill Ambassador
Meera, 16, MYP for Trafford
Millie, 17, DMYP for West Suffolk
Mohammed Mashhood, 26,
Molly, 17, NHS Youth Ambassador
Moneigh, 15
Monty, 15, SMYP for East Hampshire
Nadine Thomas, 24, Girlguiding Young Leader
Nakkita Charag, 21, NHS Youth Advisor, NHS Youth Forum
Neelu Saraswatibhatla, 18
Nyasha Duri, 22, #iwill Ambassador
Oban, 15, MYP for Somerset
Padraig, 17, #iwill Ambassador
Paige, 13, #iwill Ambassador
Patrick Cantellow, 20, #iwill Ambassador & Non-Executive Director, Youth Employment UK
Patrick, 17
Petty Officer Cadet Ellie Tucker & the Sea Cadets National Cadet Forum
Precious, 15, MYP
Ray Wang, 22, #iwill Ambassador; Developments Lead at B&B Young People's Theatre Group
Rebecca, 17
Rebecca, 22, St John Ambulance Advocate
Rowan, 13, DMYP of Central Bedfordshire
Rowan, 14
Saeed Atcha MBE DL, 23, CEO Youth Leads UK
Seren Hughes, 24, NHS Youth Forum Ambassador
Shiv, 13
Simran Sangherra, 19, #iwill Ambassador
Sonia Beard, 21, NHS Youth Forum Youth Advisor, Tissue Ambassador for NHS Blood and Transplant
Sophia Badhan, 19, Mental Health Advocate
Sophie, 17, Broadland YAB Young Commissioner
Stevie, 16
Syed Ahsad Ali, 26
Tanaquil, 15, MYP for South Suffolk & Ipswich
Tapiwa, 16, MYP for Colchester
Thea, 17
Therese Crossan, 20, #iwill Ambassador
Thomas McEachan, 23, #iwill Ambassador & Trustee
Toby, 12, MYP for West Suffolk & Bury St Edmunds
Tom Farren, 22, Youth Committee Member of Beatfreeks Collective
Tom Rebair, 24, Young Minds Volunteer
Umar Sujad, 22, Youth Representative
Usman Ahmed, 21, #iwill Ambassador, Special Constable
Veronika Pudilova, 22
Victoria Bogle, 20, #iwill Ambassador
Xavana, 15, #iwill Champion
Zoe, 15, #iwill Champion
Senior Leader Signatories
Adeela Warley, CEO, Charity Comms
Alan Thornburrow, Country Director, BITC in Scotland
Ali Oliver, CEO, Youth Sport Trust
Amanda Chetwynd-Cowieson, Chair, British Youth Council
Amanda Jordan OBE, Co-Founder, Step Up To Serve
Amanda Mackenzie OBE, CEO, Business in the Community
Angela Salt, CEO, Girlguiding
Anisa Morridadi, CEO & Founder, Beatfreeks
Ann Pickering, Trustee, Step Up To Serve
Anna Smee, CEO, Youth Futures Foundation
Sir Anthony Seldon, Vice Chancellor, The University of Buckingham
Ben Cairns, Director, Institute for Voluntary Action Research
Bethia McNeil, CEO, The Centre for Youth Impact
Caron Bradshaw, CEO, Charity Finance Group
Ceylon Hickman, Head of Impact & Female Participation, Football Beyond Borders
Chris Martin, CEO, The Mix
Chris Murray, CEO, Young Brent Foundation
Chris White, Founder, Zing
Dame Alison Peacock, CEO, Chartered College of Teaching
Dame Julia Cleverdon, Co-Founder, Step Up To Serve
Dan Finn, CEO, The Archbishop of York Youth Trust
Darren Moorcroft, CEO, Woodland Trust
Denise Hayward, CEO, Volunteer Now
Dr Rania Marandos, CEO, Step Up To Serve
Dr Victoria Edwards, CEO, The Ernest Cook Trust
Elly Heaton-Virgo, CEO, Young Ealing Foundation
Emma Rigby, CEO, Association of Young People's Health
Emma Thomas, CEO, Young Minds
Erik Mesel, Chair, Young People's Foundation Trust
Graham Duxbury, CEO, Groundwork UK
Hendrikus van Hensbergen, CEO, Action for Conservation
Henry Greenwood, Managing Director, Green Schools Project
James Cathcart, Founder/Director, Young Voices Heard
James Toop, CEO, Biteback
Jane Ide, CEO, NAVCA
Jennie Butterworth, CEO, Envision
Jim Cooke, Head of Foundation, Co-op Foundation
Julian Olivier, CEO, Raleigh International
Julie Murdy, Director, Girls' Brigade England & Wales
Justin Watson, Director, Young Manchester
Kevin Watkins, CEO, Save the Children
Kunle Olulode, Director, Voice 4 Change
Leigh Middleton, CEO, National Youth Agency
Louis Howell, Director, Revolution Hive
Louise Searle, Director, First Give
Lucy Supperstone, Director of Innovation and Skills, SLQ Sports Leaders
Margo Horsley, Voice as Value
Mark Russell, CEO, The Children's Society
Martin Coles, CEO, Sea Cadets
Martin Houghton-Brown, CEO, St John Ambulance
Matt Hyde OBE, CEO, The Scouts
Matthew Taylor CBE FAcSS, CEO, RSA
Meg Henry, Co-Director, The Linking Network
Mete Coban, CEO, My Life My Say
Mike Adamson, CEO, British Red Cross
Moira Sinclair, CEO, Paul Hamlyn Foundation
Natalie Cramp, CEO, Profusion
Ndidi Okezie, CEO, UK Youth
Neil Martin OBE, CEO, JLGB
Sir Nick Parker, Chair, Step Up To Serve & Team Rubicon
Nicola Butler, CEO, Young K&C
Paul Drechsler CBE, Chairman, London First & Bibby Line Group
Paul Reddish, CEO, Volunteering Matters
Paul Whiteman, General Secretary, NAHT
Peta Foxall, Chair, The Wildlife Trusts
Peter Cheese, CEO, CIPD
Peter Lewis, CEO, Institute of Fundraising
Phil Barron, CEO, Young Westminster Foundation
Pippa Smith, CEO, Student Hubs
Richard Parry, CEO, Canal & River Trust
Rita Chadha, CEO, Small Charities Coalition
Robin Osterley, CEO, Charity Retail Association
Russell Hobby, CEO, Teach First
Ruth Hollis, CEO, Spirit of 2012
Ruth Marks, CEO, Wales Council for Voluntary Action
Ruth Marvel, CEO, The Duke of Edinburgh's Award
Sacha Deshmukh, Executive Director, Unicef UK
Sam Butters, CEO, Fair Education Alliance
Sian Jarvis CB, Director, Newton Europe
Sonja Graham, Managing Partner, Global Action Plan
Steve Frampton, President, Association of Colleges
Steve Holliday, President, Energy Institute
Tim Frew, CEO, YouthLink Scotland
Sir Trevor Pears CMG, Executive Chair, Pears Foundation
Vicky Browning, CEO, ACEVO
Wendy Human, Operations Director, Youth United